Click Here to Select This Franchise Opportunity
Liquid Capital Required:
$100,000
Business Built On Family Serving Family
Thank you for your interest in Miller's Roast Beef. We are delighted to have the opportunity to get to know you better and learn about your interests, goals, passions & values and see how they might align with the Miller's Roast Beef culture that has been created and strengthened over nearly 50 years!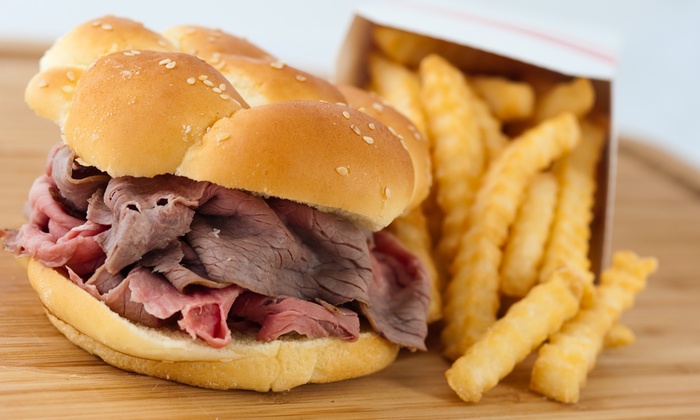 We put "people first" in everything we do. We feel if you do the "right thing" and put people first in every decision and action, then things fall perfectly into place. We truly believe in doing what is right, treating others as we would like to be treated, and leading by example — all which naturally bring positive results.
The great traditions that have been built over time at Miller's Roast Beef carry on today. We have always been defined by QUALITY FOOD, EXCEPTIONAL CUSTOMER SERVICE, AND A CONSISTENT DINING EXPERIENCE. We are obsessed with providing a high quality, consistent product and experience — meeting the demands of today's consumers. We spoil our customers, because they deserve it! We work hard to source the finest ingredients, continually improving our efficiencies in operations, and we take pride in our never-ending commitment to training, motivating, and empowering individuals who are part of the Miller's Roast Beef family.
Our team has always worked together as a family and we are now excited to have the opportunity to work together with like-minded individuals and expand the Miller's Roast Beef family. If you share our commitment to and passion for fresh, handcrafted sandwiches and a classic, extraordinary approach to customer service, then congratulations, you've found an EXTRAORDINARILY UNIQUE OPPORTUNITY to be a part of — Miller's Roast Beef is for you!
The Miller's Roast Beef brand and family is positioned for more growth through our franchise program and we invite you to be a part of it! Join us, and TOGETHER WE WILL BRING MILLER'S ROAST BEEF RESTAURANTS TO NEW COMMUNITIES — and introduce others to the secret that we've cultivated for the past nearly 50 years!
Nearly 50 Years Of Knowledge At Your Fingertips
AS PART OF OUR TEAM, you will have nearly 50 years of industry experience behind you, every step of the way! You will have the valuable opportunity to work with franchisors who are actually "walking the walk and talking the talk." We are in our store daily interacting with customers, evaluating products, refining processes, and working with staff to ensure that the most magical experience happens for customers consistently!
The Miller's Roast Beef franchise development and support team is made up of individuals who are actively involved in the operations and support of the original corporate stores. In addition, we have made a commitment to limit the number of corporate stores that we have so that WE CAN SUPPORT ALL OF OUR FRANCHISE OWNERS and help you run your Miller's Roast Beef locations as efficiently and effectively as possible.
We believe that every franchise owner is a vital part of the Miller's Roast Beef family, and we are committed to supporting the long-term growth of all our restaurants. Our years of "boots-on-the-ground" experience will be AVAILABLE TO YOU, WHEN YOU NEED IT:
Guidance On Site Selection
Build-Out Assistance
Access To Approved Suppliers
Confidential Operations Manual
Pre-Opening Training
Ongoing Support
Brand Equity And Marketing Support
Love What You Do…Join Our Team
For nearly five decades, Miller's Roast Beef has been serving food that customers love. We love what our family has built over time, our customers love it, and we are confident that you will, too. We are seeking entrepreneurs who have A BACKGROUND IN FOODSERVICE OR BUSINESS MANAGEMENT, and who understand the value of pursuing positive results through hard work. Qualified candidates will also have a passion for the Miller's Roast Beef brand, and share the company's commitment to QUALITY PRODUCTS AND EXCELLENT SERVICE, as well as sincere community involvement.
As part of our family, you will be granted a protected territory, and can depend on us to continually develop and improve the Miller's Roast Beef business model. Perhaps most important, YOU WILL BE BACKED BY A MANAGEMENT TEAM WITH GENERATIONS OF EXPERIENCE, and uncompromising desire to help build an exciting future for each and every Miller's Roast Beef restaurant.
To find out more about the Miller's Roast Beef franchise program, please fill out the request more information form. We appreciate your interest in the Miller's Roast Beef franchise opportunity!