Click Here to Select This Franchise Opportunity
Liquid Capital Required:
$75,000
Our Purpose
To Make the Ordinary Business of Moving Exceptional
You've always had the hunger to be a part of something bigger. Now, you've found your tribe so you never have to stand alone. You have the heart of a founder — it's time to write your own story. As part of this community, you have the opportunity to define an industry. You own more than a moving company — you own a customer experience company that moves people. You have the support of proven systems for success. You can take the risk and it's a smart one. It won't be easy. It won't be luck. You'll look back one day with pride and say, "Look at what I built."
Whatever road you took to get here, we're glad you made it.
Why Join You Move Me
Building Something Bigger and Better – Together
You Move Me is backed by the same culture of founders, back-end systems, and tried-and-true marketing that made us one of the country's moving companies. If you're selected to start your future with us, we'll support you every step of the way.
COMMUNITY OF OWNERS
When you join You Move Me, you're a part of our family. You have access to the knowledge and expertise of fellow franchise partners across all the United States and Canada.
SMART RISK
Franchising gives you the best of both worlds — the freedom to be your own boss, with the back-end systems and support of a trusted brand to set you up for success.
TRIED & TRUE MARKETING
Everything's in-house — from creative to national media buys — so you can focus on developing your business. It's our recipe for successful conversion.
EXISTING CUSTOMERS
Our broad customer base has been identified over 7 years and dozens of markets. This multiplier effect of brand recognition lowers the cost of customer acquisition and enables you to capture demand in your market.
BACK-END SYSTEMS
The You Move Me model is based on the proven systems and processes that made us an international, multi-million-dollar brand.
TRUSTED BRAND
We have years of experience in helping small businesses grow. The proof is in our 5-star reviews — we provide the exceptional service our customers deserve.
CULTURE OF FOUNDERS
You have the chance to leverage your leadership and business skills to write your own founder's story. Owning a business gives you the freedom to choose your own future.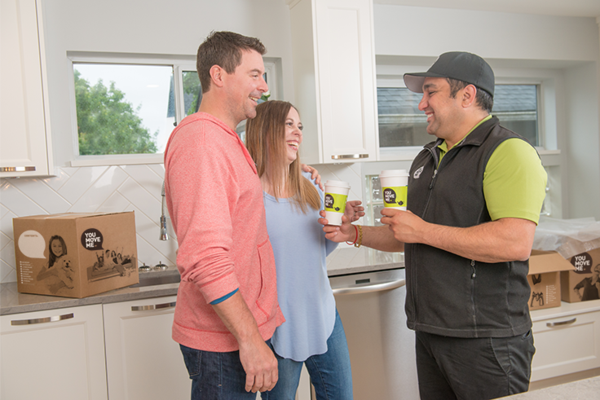 Why Join A Franchise System
Be In Business For Yourself, Not By Yourself
You might be wondering why you should join a franchise system instead of going it alone. Franchising provides the best of both worlds — you get to be your own boss and build your own business, but you're backed by the proven success of a trusted brand. But not all franchise systems are alike. If you're selected to start a business with You Move Me, you'll join a family of exceptional business owners who are building something bigger and better together.
You join your tribe, so you never have to stand alone.
You take a risk — but it's a smart one.
You can focus on growth, thanks to proven systems.
You have access to existing customers who will love your results.
You're backed by tried-and-true marketing tactics that support your growth.
You're a valued part of a trusted brand.
You're writing your own founder's story.
Reinventing An Industry
Moving People, Not Their Boxes
When you think of the moving industry, we're willing to bet you can't think of a household name. You Move Me is changing that.
You Move Me is reinventing the worn-out moving industry. Here's how:
Revenue Potential: the moving industry is valued at $86 billion annually, with nearly 3% year-over-year growth for the past five years.
Highly Fragmented Industry: we recognized customers needed a different moving experience — one that reduced the typical disruption and stress of a move, backed by a trusted brand.
Low Overhead / Inventory: as your business quickly grows, you add to your crew and your fleet. You leverage proprietary technology to efficiently scale operations.
Fast Ramp-up Time: your business can be operational within a couple of months. We're looking for leaders who are passionate about exceptional customer experience and inspired to build a local market leader that will disrupt the moving industry!
The Investment
Invest in Your Success
We know you have many options to start a business — so how do you decide to go it alone or join a franchise? On your own, you have to put yourself on the line with no support or help for success. With a franchise, you're backed by proven systems and a trusted brand. It's the smartest risk to start a business.
But every franchise opportunity requires a different investment. A typical restaurant or retail franchise can cost anywhere from $150K to over $1M!
At You Move Me, we've made it more affordable than ever to start a franchise. We believe everyone has the right to be considered for a franchise opportunity. This is our way of making that dream a reality.
Ideal Candidate
We're looking for owner/operators with strong leadership skills who are hungry for growth want to run a successful business. Someone who has experience leading hard working teams and who are not afraid to get their hands dirty when required will succeed as a You Move Me franchise owner. Previous experience in the moving industry not required, minimum of $75,000 liquid capital and the ability to commit to the business full-time.