Click Here to Select This Franchise Opportunity
Liquid Capital Required:
$50,000
A Network is Good… An Alliance is Better
NOVUS Glass is not just a network for windshield repair and replacement, and we're not a network with a trademark that puts up a sign and calls it a day.
We are a national franchisor with one clear goal: the growth of our owner operators. This means actively working with you as our Franchisee to dominate your territory, increase your market share, reduce your operating costs, and maximize the potential profitability of your business.
Unmatched Credibility, Unparalleled Innovation
Whether you're looking to enhance the value you already provide your customers or you want to be your own boss for the first time, NOVUS Glass gives you the brand, tools, and innovative products you need to succeed.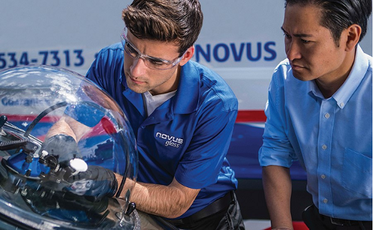 Along with a strong foundation, we provide you with the support you need to grow each year. That means an advertising and marketing program tailored to your needs, ongoing training, and operational support to back up the immediate momentum of our brand recognition, insurer relationships, and fleet contracts.
NOVUS Glass has the sales, marketing, and operational support that you need to grow and scale your windshield repair and replacement business. Year over year, NOVUS Glass franchisees are increasing their revenues and building equity in their business.
Comprehensive Training and Launch Support
NOVUS doesn't give you a DVD to watch and a swift pat on the back. NOVUS' training program is known around the world as one of the most comprehensive in the auto glass industry.
The NOVUS training program includes:
- One week of Operations and Windshield Repair Training
- Two weeks of Auto Glass Replacement Training
- One week of Sales Training in your market
- Ongoing training and best practices support
That's a month of training, 80%+ of it hands-on, doing the work. Whether you have auto glass experience or not, you'll feel confident that you know how to operate a thriving auto glass business.
A Globally Proven Model
As a part of the Fix Network, NOVUS franchisees are a part of a global partnership of small business owners in collision, mechanical, and glass—the complete automotive aftermarket solution.
The owner-operators who make up the NOVUS Glass network are supported by expert operations and marketing teams, who help them deliver the predictable consistency that work providers are asking for. Locally, NOVUS Glass franchisees are invested in their businesses and communities, while leveraging power of a global network.
That's thinking globally and acting locally.
With over 1,300 service locations in more than 30 countries—250+ in North America alone—we've remained the leader in windshield repair since 1972.