Click Here to Select This Franchise Opportunity
Liquid Capital Required:
$48,000
JOIN THE REVOLUTION THAT IS GOOD FOR EVERYONE!
We live in a unique time where funding from the government, public opinion and professional interest are all coming together. These support systems are what are propelling the healthy vending industry to be SO LUCRATIVE and ATTRACTIVE!
Naturals2Go provides a turn key program to market healthy snacks & beverages utilizing the latest in automated retail ~ better known to you as vending.
Naturals2Go connects you to the lucrative market of snacks and beverages tapping into the demand for healthy options in the evolving marketplace.
A Simple Business ~ Stocking and maintaining the vending machines that do the work.
Naturals2Go operators income is driven by the unlimited number of machines that can be added to your business.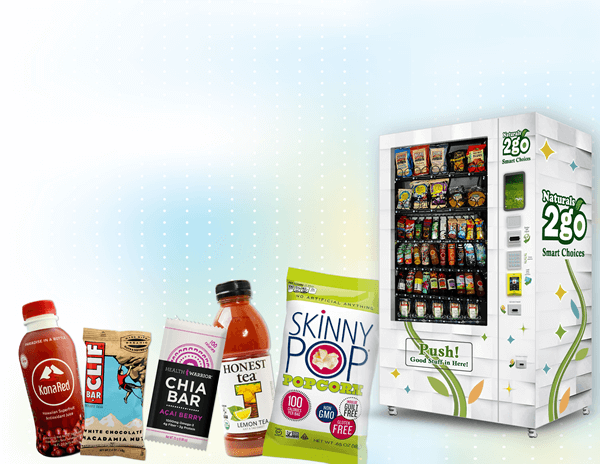 OUR PASSION
Healthy vending and our operators success is our passion. Helping our operators start and grow a successful business, not just in profits but affording them with a lifestyle that gives them time – time to spend with their family and to do the things they love.
SUPPORT SYSTEM
Imagine a business that was totally yours, but one that came with the support of an established franchise. A company that starts day one, with a team of workers dedicated to your success. That means, when you want to know how to do something, you could just pick up a phone and ask. If you can imagine this, you can understand the greater support that Naturals2Go offer with your investment.
ALL THE BENEFITS OF A FRANCHISE ~ WITHOUT THE COST
Naturals2Go is NOT a Franchise, but we've had over 30 years to build up the knowledge and systems. No one expects you to know how to set up and run a vending business. Our system has allowed for thousands of independent operators to create and grow a successful business at their pace. You can choose full or part time, choose your locations, and choose how much money you want to earn. The choice is yours. We are here to provide you with support and guidance, not pressure. We know what it takes to get started and from training to mentoring, we're here to assist you every step of the way.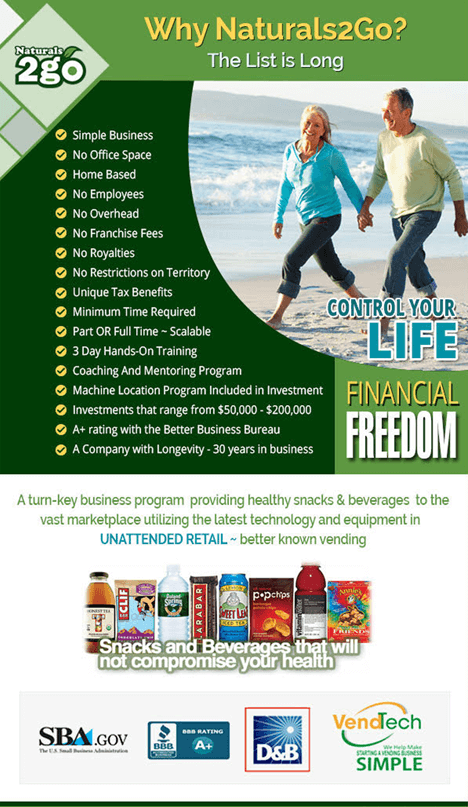 WE'VE BEEN DOING THIS FOR OVER 30 YEARS!
The staff of Naturals2Go lives by the Zig Ziglar motto, "If you help enough people get what they want, you'll always get what you want." We are not simply looking for more owner/operators, we are looking for like minded owner/operators who will run their business based on this same principal. Our founder, Randy Francis embedded the core belief that "the truth is always good enough" in every member of the company. These basic character traits of the organization foster a partnership between Naturals2Go and it's owner/operators that last a lifetime.