Click Here to Select This Franchise Opportunity
Liquid Capital Required:
$50,000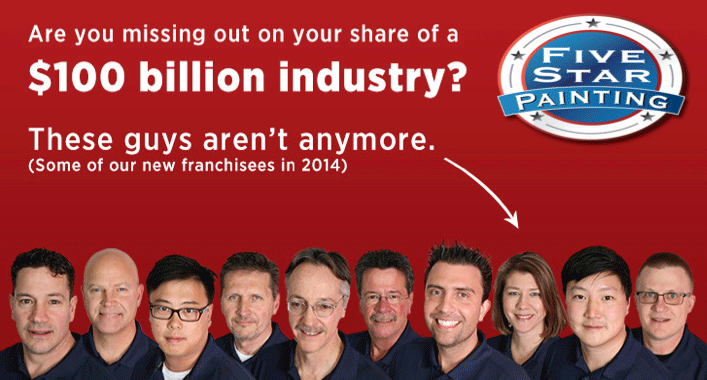 Five Star Painting Ranked #1 Painting Franchise by the FBR
What No One Else Can Say
4.6 out of 5 ranking by the Franchise Business Review, the highest of any painting concept
4.95 out of 5 customer satisfaction rating
Lowest royalties in the painting sector: 5 percent declining to 4 percent
Affordability: $40,000 franchise fee, and no initial technology fee
What Drives Us
Sales Success: Top quartile of franchisees do approximately $859,252/year in gross sales
Reaching Consumer's Dreams: We help fulfill customer dreams by adding color to their lives, both in the residential and commercial spaces
100 billion dollar industry: The painting industry is at our fingertips
Where We Win
Lead Generation: Up to 70 percent of leads generated by franchisor supported online programs
IN-HOUSE Marketing Team: We manage our franchisees' online marketing efforts, and support all traditional marketing efforts
IN-HOUSE Sales Support: Five Star Painting answers the phone with a live representative and web inquiries are called back instantly
The Model Designed To Give You A New Future
Over the past decade, Five Star Painting has grown to be the 2nd largest painting franchise in North America, servicing customers in the United States, Canada, and Brazil. We are a unique opportunity, our franchise reputation is built by franchisees who are driven by more than income, they are driven to be the best.
Five Star Painting Franchise Owners enter a model where they can thrive in the $100 Billion dollar home services industry as a result of a system that includes:
60-70% of leads driven by online franchisor managed campaigns
Professional marketing materials that set you apart from other painters
Franchisor operated sales and support center
C.O.R.E – Manage your day to day operations in one convenient location
Pre-launch training and ongoing business coaching
Affordable franchise fee, and lower all in at $55,000-$65,000
No office, warehouse or retail space required
Work from home
No employees – use painting contractors
No inventory
Repeat business
Executive Model Opportunities Available
Become a Five Star Painting Executive Franchisee and grow your wealth through the market value of multiple territories.
Multiple Territory Purchase
Ideal for ambitious, executive-minded franchisees
Experience in management and leadership
Take your professional skills to the next level