Click Here to Select This Franchise Opportunity
Liquid Capital Required:
$60,000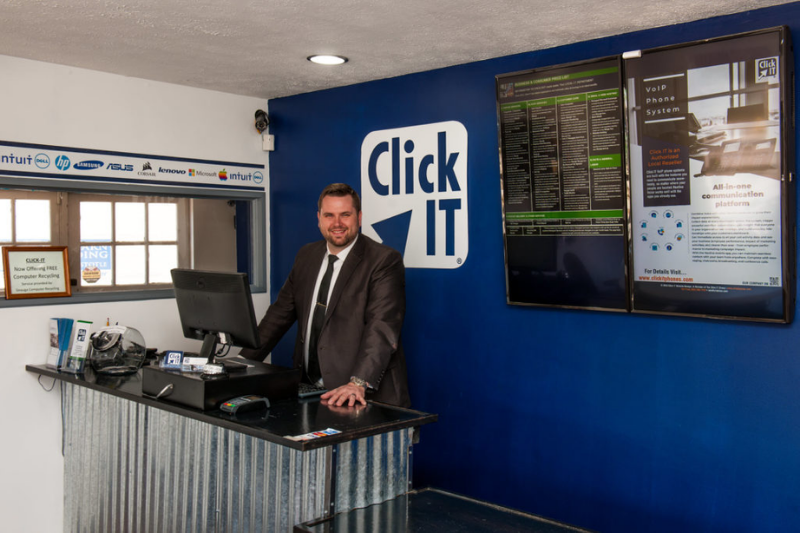 Click IT is an emerging full-format IT franchise whose products and services cut across typical industry distinctions. This is because Click IT is both a retail shop and a managed service provider (MSP). We fix laptops and setup networks, but we also offer a robust suite of enterprise-level IT services, granting individual customers and organizations access to a level of best-in-class solutions that only large corporations can afford. Together, these two sets of services constitute Click IT's two-door model.
MAIN STREET ETHOS
Importantly, Click IT nestles its storefronts within neighborhoods and communities, townships and city blocks, integrating into the surrounding marketplace, becoming part of the local geography. We have been able to address grossly underserved markets by emphasizing a concierge-style sales approach from these brick-and-mortar, main street locations.
"YOUR LOCAL IT DEPARTMENT"
Since 2012, Click IT's company store has thrived because of our dedication to developing systems and revenue models that are streamlined, integrated and scalable. Having built an IT services company unlike any other, we decided Click IT had great potential as a nationally-branded franchise opportunity. The know-how, intellectual property and developmental guidance Click IT now offers its franchisees is unrivaled in its depth and competitive value.
WE ARE THE ONLY RETAIL MSP FRANCHISE
Click IT is the only MSP serving customers from a brick-and-mortar retail space. This hybridized, two-door format uniquely positions us to extend diverse IT services to a steady flow of local consumers and organizations in severely underserved markets.
WE OFFER MORE GUIDANCE
Franchisees receive 20 hours of classroom training at our company store and 20 hours of on-the-job, task-by-task training. Our franchisees learn how to plot a course to sustainable growth and profits through the development of a start-up plan. When it comes to the success of our franchisees, our phoneline is always open. A serial entrepreneur, Founder Al Harlow has decades of experience building businesses and leading teams in the technology and IT space.
WE DELIVER BETTER SYSTEMS
Since 2012, Click IT has developed systems and procedures geared to streamline day-to-day operations. These systems and procedures are indispensable to Click IT's competitive edge. As a company making use of substantial IT infrastructures ourselves, we aim to exemplify what it means to make IT work for a business. For instance, our "pick it and click it" platform allows franchisees to select products and services by moving through a series of menus, all while on the phone or standing across the counter from a customer.
WE GENERATE THE HIGHEST MARGINS
Offering best-in-class solutions at volume-discounted prices is a recipe for profit. In recent years, the Click IT company store has made better-than-average EBITA on growing sales from a continually expanding customer base. Increasing MSP endpoints and seats for customers is easy when you have systems like those at Click IT.
WE ARE A FULL-FORMAT FRANCHISE
It is not always the case that franchisees gain full access to all proprietary brand materials, expertise, vendor relations and business development strategies available to the franchisor, but that is what we're offering.
WE HELP YOU GET A LOAN
Funding is essential when purchasing a franchise. Our partners have been funding America's entrepreneurs for over 35 years, offering a suite of funding options spanning nearly every type of business situation.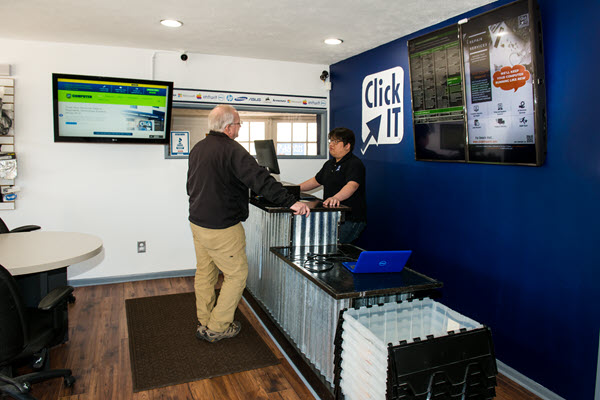 We'll Show You How to Offer the Best-In-Class Managed IT Services to a Receptive Network of Appreciative Customers
Managed Service Provider (MSP)
Our proactive approach to IT management relieves customers of their information technology woes. No matter which systems and devices you, your family and your staff use, Click IT provides the day-to-day support that prevents problems from cropping up and quickly resolves any issues that might emerge. Our proven methodologies ensure our clients experience less downtime and enjoy greater productivity. Best of all, as an MSP, we do all of this for a flat monthly fee—so your bank balance benefits too.
IT Security
The complete Click IT Secure solution will get your business or home fully protected from ransomware, cyber-criminals, and crime-ware for a reasonable price.
Recently, a ransomware virus shut down thousands of businesses across 150 countries and infected hundreds of thousands of computer networks, and it will happen again according to the experts. In recognizing this challenge, Click IT developed a comprehensive solution to data vulnerability and is now offering it at an affordable and reasonable price to businesses and organizations nationwide.
Computer Repair
Click IT offers a unique, hybrid delivery of IT services. We care for hundreds of Macs, PCs, and Networks. We service both consumers and businesses. Our aim is to set your worries at ease by being your reliable and affordable IT department.
We sell, support and service every brand computer or network appliance, and can even custom build your system or network using quality parts that are made to last. We also make sure that each part we use for fixing is new and of the highest quality.
Hosting Services
Click IT has a full-service hosting facility, where we provide our clients with reliable and secure website hosting with affordable email and domain prices.
Website Designing & Development
The web is now where people go to find things and learn more before deciding to go a step further. People want to see first what you are before even considering going the next step. It is just the way this fast-paced world has developed, and the good news is that you can take full advantage of its power at a much lower cost than just a few years ago.
More specifically, because of plugin technologies and advanced platforms Click IT uses, your new website will be able to be just about anything you can imagine. And better yet, building it can be done at a low price compared to just a few years ago, where functional elements that made a website work had to be built using developers writing custom code.